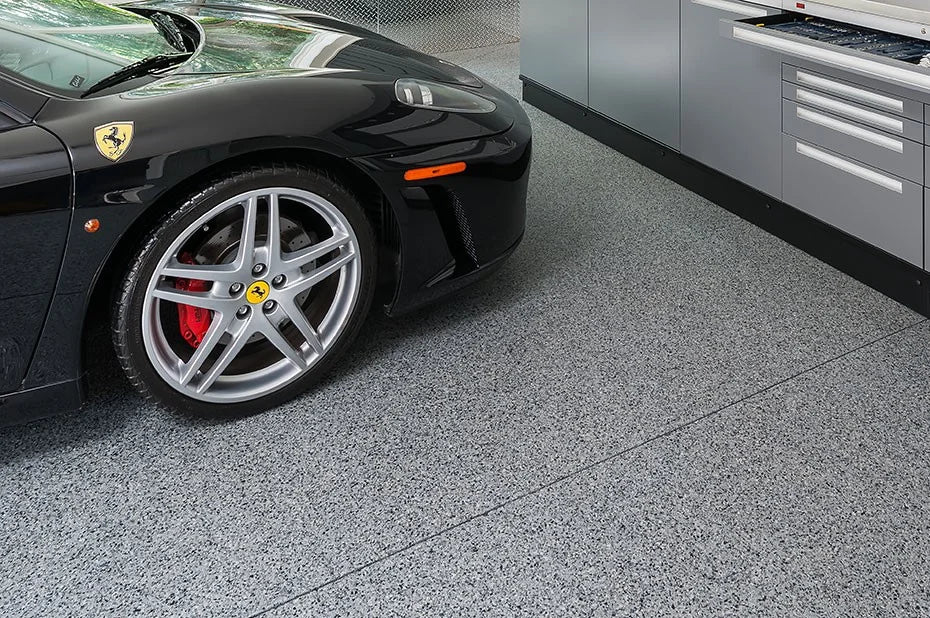 GARAGE FLOORS
Imagine walking into your garage and being greeted by a beautiful, durable, and easy-to-clean floor. No more worrying about oil stains, tire marks, or cracksin the concrete. With Epoxy Plus Pro's decorative flake garage floors, you can transform your garage into a space that's not only functional but also visually stunning.
Our garage epoxy flooring is perfect for customers in the New York City area including Manhattan, Brooklyn, Staten Island, The Bronx and Queen, as well as all throughout the Northern New Jersey area who want to enhance the look and feel of their garage.
Our decorative flake garage floors come in a variety of colors and patterns, so you can choose the one that best suits your style and preferences.
But our garage epoxy flooring isn't just about aesthetics. It's also incredibly durable and long-lasting. Our garage floors epoxy are resistant to chemicals, abrasions, and impacts, making them ideal for high-traffic areas like garages. Plus, they're easy to clean and maintain, so you can spend less time worrying about your garage floor and more time enjoying your space.
Investing in a residential garage epoxy floor is worth it for several reasons. First, it adds value to your home. A beautiful and functional garage can increase your home's resale value and make it more attractive to potential buyers. Second, it protects your concrete from damage. Concrete is porous and can absorb oil, chemicals, and other substances that can cause it to deteriorate over time. Epoxy flooring creates a barrier that protects your concrete and extends its lifespan.
Finally, a garage floor epoxy can transform your garage into a space that's not just forparking your car. With a beautiful and functional floor, you can turn your garage into a workshop, a home gym, or even a man cave. The possibilities are endless.
At Epoxy Plus Pro, we're committed to providing our customers with the highest quality garage epoxy flooring. Our team of experts will work with you to choose the perfect color and pattern for your space and ensure that your installation is done quickly and efficiently. Contact us today to learn more about our decorative flake garage floors and start transforming your garage into a space you'll love.